Decision on Bovis Planning Appeals
The Department of Communities and Local Government (DCLG) released on 10th August 2016 the Secretary of State's decision on the Planning Appeals lodged by Bovis on the refusal of it's two applications on land between East Hunsbury and Collingtree Village.
Application A
was for outline permission for 1000 houses, a mixed use local centre, a primary school, reconfiguration of Collingtree Park Golf Course, demolition of all existing buildings, a new vehicular access off Windingbrook Lane, sustainable drainage systems and associated infrastructure including highway improvements. This application was upheld and permission granted subject to conditions on air quality, flooding and traffic.
Application B
was for full planning permission for 378 dwellings (as a first phase of the 1000) served from a new access from Windingbrook Lane and reconfiguration of part of Collingtree Park Golf Club, including a new temporary hole 17, car parking, sustainable drainage and infrastructure including highway improvements.
This application was dismissed and permission refused.
The Secretary of State accepted the Inspector's view that Application B ( land adjoining Collingtree and the fields to the west of Barn Corner and the old Golf Academy) would impact on the heritage and setting of the Church and Conservation Area.
Bovis, have been working with NBC Planning to come up with a revised scheme that meets the Inspector's conditions. NBC has set up a 'Stakeholders Group' which includes the relevant Parish Councils , the community Action Groups and representatives of the Golf Club and Bovis.
The aim of the community groups involved has been to make the final scheme as sympathetic to the local environment as possible. Major areas of concern such as flood risk, traffic and air quality have not been part of the discussion as they were all approved by the Inspector.
Revised proposals have now been prepared and will go on public exhibition as part of a consultation programme. A revised planning application for the first phase of 378 houses will be submitted to Northampton Borough Council mid July and if approved work will start on site in early 2018.
The exhibition will be at Blacky More Community Centre, Butts Croft Close, East Hunsbury on Tuesday 4th July from 4pm to 8pm
The material from the exhibition will be available on the Bovis website after 4th July
bovishomes.co.uk/rowtreepark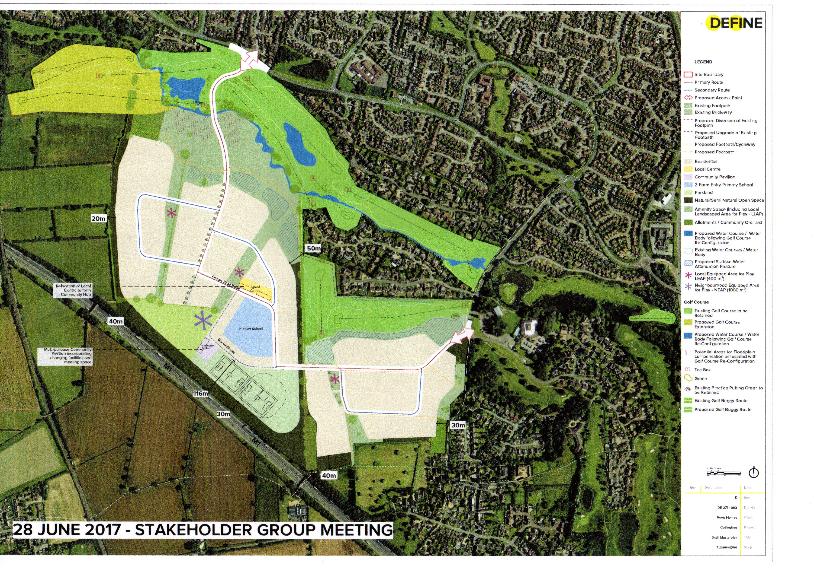 The importance of Village Heritage
The Inspector's recommendation, which was accepted by the Secretary of State, was heavily influenced by the Proof of Evidence presented by the expert witness on Heritage matters Mr Ignus Froneman B.Stud. ACIFA IHBC. Mr Froneman's Report provided justification for the retention of fields to the west of Barn Corner, as an important setting for the village, the Conservation Area and St Columba's Church.
The Proof of Evidence, together with maps and photographs is well worth reading and can be accessed on the links below.

OPPOSITION TO ROXHILL NORTHAMPTON GATEWAY

NEW WEB SITE

Roxhill are proceeding with their proposals for a 5m sq ft warehouse park on 457 acres of green fields next to Junction 15 and 250 yds from Collingtree. A new web site has been set up to raise awareness of this proposal and the planning process that will apply. In effect the Government will decide. Links to the relevant documents and who to contact with your views are also included on the website.
The link is: www.stoproxhill.co.uk