A New Website to oppose 'Northampton Gateway' Warehouse development.

Roxhill are proceeding with their proposals for a 5m sq ft warehouse park on 457 acres of green fields next to Junction 15 and 250 yds from Collingtree. A new web site has been set up to raise awareness of this proposal and the planning process that will apply. In effect the Government will decide. Links to the relevant documents and who to contact with your views are also included on the website.
The link is: stoproxhill.co.uk
Roxhill will be holding an exhibition of its latest plans and layouts at the Hilton Hotel, Watering Lane, Collingtree on 12th, 13th & 14th December - from 1.30pm until 7.30pm on each of those days.
The relentless march of the Sheds
During the last major planned expansion of Northampton in the 70's and 80's, worries began to grow over the over dependence of the local economy on the Distribution and Warehousing sectors. Now rebranded as the logistics industry, those fears have come home to roost. Huge warehouse sheds now eat up many acres of the Northamptonshire countryside and are a magnet for diesel guzzling HGV's. They provide few jobs per square foot and even these are increasingly being automated and replaced by robots.
The hope was that Northamptonshire could attract high skilled, high tech, quality employment and the site at Grange Park adjoining Junction 15 was originally earmarked for prestige offices. This hope has been abandoned and the site released for yet more warehouses. The Collingtree area is at the southern edge of the so called 'Golden Triangle' (bounded by the M1/M6/M42) and is a target for easy build mega sheds on greenfields giving fast HGV access to the motorway network. The rewards for the developers and operators are obvious but the environmental cost for the rest of us is only slowly being realised.
Roxhill Northampton Gateway

The newest threat to the Collingtree environment (and that of Grange Park and the Hunsbury's) is now on our doorstep. Having withdrawn an earlier attempt to build the biggest warehouse in Europe for Howden's, the Developer Roxhill, financed by the California based CBRE Global Investors (assets $89 billion) now want to build a 5m sq ft warehouse park with a link to the rail network. This scheme known as 'Northampton Gateway J 15' seems intended as a rival to the similar scheme 'Rail Central' promoted by Ashfield Land that would dominate Milton Malsor and Blisworth. This is being strongly opposed. See link to Say No to Rail Central website. http://www.norailinterchange.co.uk/

Both proposals seek to dress up large scale commercial construction projects as 'Strategic' and thereby bypass the normal planning application process. This was the 'National Infrastructure' fast track planning process brought in by George Osborne to limit scrutiny and challenge by the local communities affected.
Roxhill has produced a 'Scoping Report' which seeks approval from the Planning Inspectorate for the site investigations they intend to carry out and who they will consult with. This report contains the overall Master Plan showing the scale of the proposals. To view these documents use the link below:

https://infrastructure.planninginspectorate.gov.uk/projects/east-midlands/northampton-gateway-rail-freight-interchange/?ipcsection=docs
The Northampton Chronicle and Echo in its November 3rd edition highlighted the scale of the proposals and the lack of local democracy.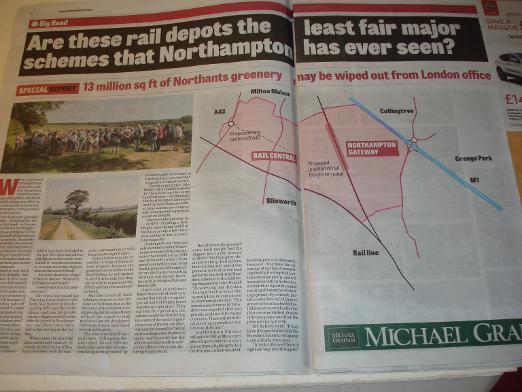 The Northampton Gateway J 15 site

Roxhill's Proposals

The Roxhill 'Gateway' will be one of the largest warehouse developments in Europe. It will be completely out of scale with the surrounding environment. It will displace 460 acres of agricultural land and its support for wildlife habitats. It is in conflict with the adopted Strategy for West Northamptonshire and local and neighbourhood plans.
It will place further strains on the Junction 15/A45 road network and add to already dangerous levels of air and noise pollution. It is unfair that such a major, controversial and disruptive proposal should bypass the local democracy by claiming to be an 'infrastructure project of national significance' when it is clearly a warehouse development with limited rail freight capability added on.
The proposal from Roxhill is not strategic – it is 'developer led' because a landowner is willing to sell. It conflicts with the recently agreed West Northamptonshire Joint Core Strategy. This specifically excludes the proposed site and submissions for its inclusion were rejected by the Planning Inspector. An earlier planning application to South Northants District Council (SNC) was opposed by all surrounding Parish Councils, local residents and MP's and was withdrawn before it could be refused.
Roxhill now seek to bypass the local planning process by presenting this as a Nationally Significant Infrastructure Project (NSIP) rather than another large warehouse complex with some limited capacity to accept rail freight. The DIRFT Strategic Rail Freight Interchange at Daventry is only a few miles away and has at least 20 years future capacity.
Roxhill made an earlier application in 2014 to South Northants District Council for a 2.67m sq ft Distribution Centre which provoked overwhelming opposition from local communities as recorded on the SNC website. There were some 500 objections from both individuals and surrounding parish councils together with support from the two Members of Parliament for the area. Technical issues were raised by the Highways Agency, Northamptonshire County Highways, SNC Transport Officers, Northampton Borough Council Environmental Health Officers, County Archaeological Officers and Natural England. The application was withdrawn prior to refusal.
The impact on the wider area surrounding Junction 15 will be dramatic. The environmental impact of traffic using the UK's busiest stretch of Motorway has up to now been balanced by the open landscape in this part of Northamptonshire. Turning this open countryside into a 5m sq ft industrial estate will affect the quality of life in over large parts of south Northampton. The prevailing winds are from the west of the proposed site and sweep across Collingtree to the residential areas of East and West Hunsbury, Wootton and Grange Park.
The earlier application on this site raised many serious social and environmental questions that remain answered;
Employment densities – Ecology and Nature Conservation – Landscape – Geology and Drainage – Noise – Air Quality – Heritage – Transport and Traffic and Loss of Farmland.
Building a third runway at Heathrow or a Nuclear Power Station, or even a new motorway, is a decision of national importance and central government has a role. Building a speculative warehouse development on productive farmland is simply opportunistic and should be decided under the full scrutiny of local people and their elected representatives.