The only website dedicated to Collingtree Village and Parish
To navigate this site click on the menu bar above. Various sub menus are listed under the heading of each of the main pages.
What's new on this site
FLASH! Roxhill & Rail Central Warehouse proposals.
Public Meeting - Roade Village Hall Friday 21st April 7.30pm

Local MP Andrea Leadsom will attend the Roade Annual Parish Meeting together with representatives of both Roxhill and Ashfield Land .

This will be an opportunity to question the proposals for 13m sq ft of warehousing covering 1130 acres of farmland and between Roade, Blisworth, Milton Malsor and Collingtree.

There was a lively confrontation at Collingtree on 18th January when representatives from Roxhill outlined their plans to an audience of 60 plus ahead of the scheduled Collingtree Parish Council meeting. There was total opposition to the proposal (and also to the one from Rail Central) with questions focusing on the lack of strategic need, increased air and noise pollution and scepticism that the promised improvements would have any real effect. The presentation team were left in no doubt as to the strength of local feeling.
Although the proposed site for the Roxhill development is within South Northants Council area, the main impact will be on communities in Northampton Borough. NBC has now responded to the Planning Inspectorate on the initial Scoping document and has raised many fundamental questions.

Local MP Andrea Leadsom has also written to Roxhill raising concerns.

Copies of both letters together with further background can be found on a new website:

'Just Collingtree' is a site is for anyone with an interest in the past, present and future of a small Northamptonshire village.
There are some ten thousand villages in Britain. Two hundred years ago 80% of people lived in a village - now 80% live in towns.
Hundreds of old villages are now simply suburbs of a modern town. But others have kept their identity, character and community spirit.
Collingtree was once a few farms clustered around a church surrounded by open fields - today it still survives squeezed between the M1 motorway and the A45 major trunk road into Northampton.
It still has its church, its pub, its school and its Village Room and, despite all the changes, it remains a village - proud of its long history and separate identity.
This site aims to provide a scrapbook in words and pictures of Collingtree - past and present.
Who knows about the future?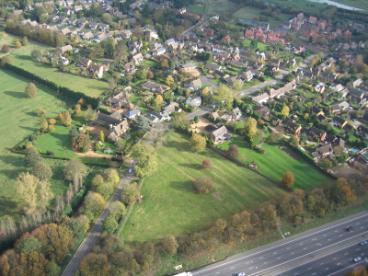 Collingtree looking North from the M1 in 2004.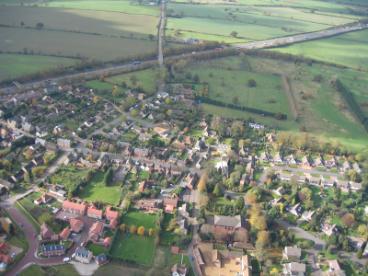 Collingtree looking South West in 2004. Photographs: Peter Skinner. Pilot: John Blake.