St Columba's
St Columba's Church has been at the centre of the Collingtree community for almost 900 years and is a likely origin of the village name.
The church building underwent a major restoration in the 1860's when Pickering Phipps built his family home 'The Grange' alongside the churchyard and extended his patronage to the church and village (see Parish Places page).
The tradition of patronage was continued by the Sears family, the later occupiers of The Grange.
From 1900 onwards, most of the social and recreational life of Collingtree emanated from the church and churchgoers including Football, Tennis, cricket, Amateur Dramatics, fetes, concerts and celebrations of all kinds.
In the last thirty years St Columba's has seen many changes. Collingtree and Courteenhall had been a joint benefice since 1954 and in 1980 they were joined by Milton Malsor in the 'Three Parishes' Benefice with a shared Rector living in the Collingtree rectory.
In 2010, Collingtree and Courteenhall joined together with Ashton, Hartwell and Roade to form the new Salcey Benefice under the ministry of Rev. Mike Burton based at Roade Rectory. This arrangement has now been replaced with a link scheme with St Giles Church in Northampton town centre.

Despite all these changes, the central role of St Columba's in the life of the Collingtree community has been maintained, with continuity being provided by the Parochial Church Council.

Minister: Reverend James Howson

The Friends of St Columba's
A voluntary group formed to raise funds for the fabric of Collingtree's ancient Church. To get involved call Peter Skinner on 01604 768394
A regular Coffee Morning is held in the Church every third Saturday in the month, between 10am and 12noon.
Everyone is welcome to join us for coffee, cakes and chat. A small voluntary donation is appreciated.

A recent addition to the Chancel is a solid Oak Table and Chair to be used during services and for Register signings at Marriage Services. This has been purchased with funds raised by the Friends and is so inscribed.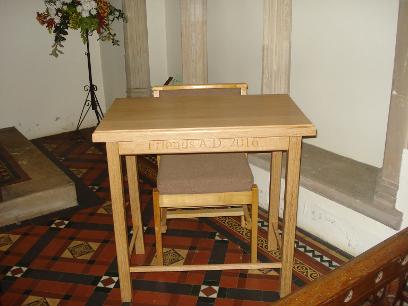 A major improvement to St Columba's was the provision of cushioned seating for the pews. This was designed installed and funded by the Friends Committee.