The second World War brought upheaval to Collingtree like everywhere else. Many village men went off to foreign battlefields and both men and women buckled down to fight on the Home Front.
Evacuees from the cities came to stay with local families to avoid the bombing raids - although nowhere was entirely safe. Few bombs fell on Northampton during the Blitz and any that did, mostly failed to explode. However there were many air-raid warnings and many German planes flew over Collingtree and nearby villages on their way to attack Coventry. On many occasions the planes jettisoned their incendiary bombs on route to or from the main target cities.
On 9th April 1941 at 1.45 am , a German Bomber flying over Collingtree from the East, dropped a line of nine bombs stretching from the old A508 almost to the railway line at Milton Malsor. Most reports of the incident record that all the bombs failed to explode however one contemporary witness recalls that one bomb (the sixth on the map below) fell down the chimney of a workshop on Ash Lane owned by a Mr Rogers - and went off.
The map below was compiled by the late Jim Patrick (see Parish People) and also shows the location of a large Searchlight in the fields at the end of High Street South.
The night Collingtree was bombed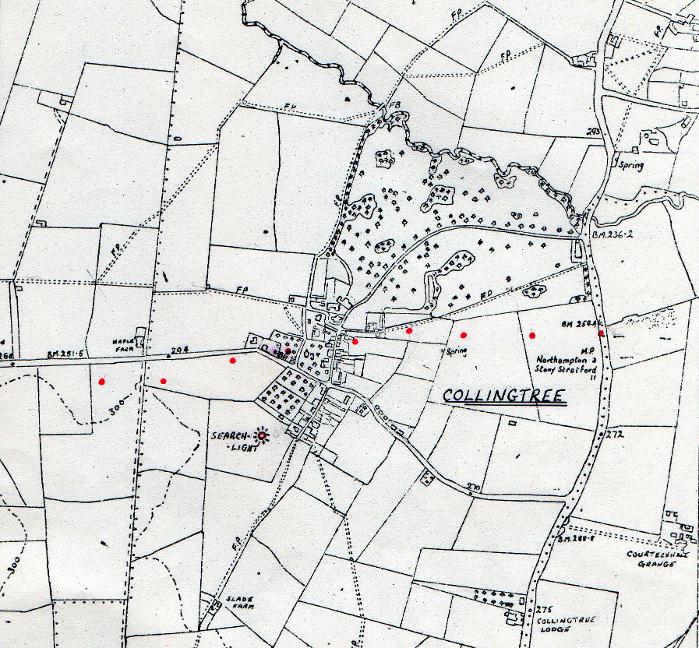 Evacuees Reunion
Many of the evacuees who were sent to Collingtree during the War have kept in touch over the years with the village folk that they stayed with. The following Press Report (undated) records the reunion on VE Day.
(Thanks to Jim Tyler for providing the press cutting)